Information on New Publication: Monozukuri ni Yakudatsu Keieikougaku no Jiten 180 no Chishiki (Glossary of Industrial Management for Manufacturing: 180 knowledge)
Public Interest Incorporated Association, Japan Industrial Management Association
President Hirokazu Kono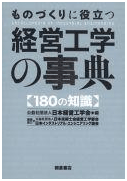 Monozukuri ni Yakudatsu Keieikougaku no Jiten 180 no Chishiki (Glossary of Industrial Management for manufacturing: 180 knowledge) was published on January 24th, 2014, from Asakura Publishing Co., Ltd. The book was planned under cooperation of three organizations, including the Japan Industrial Management Association, the Industrial Management Department of the Institution of Professional Engineers, Japan (IPEJ), and the Japan Institute of Industrial Engineering, and was edited by the Japan Industrial Management Association.
We hope you purchase and utilize the book.
For details, please visit the webpage of Asakura Publishing.
Glossary of Production and Manufacturing Management Terms
The first issue of the first version was published on March 25th, 2002.
The 3rd issue has been published.
Regular Price: 3,780 yen (including tax)
Edited by: Japan Industrial Management Association
Published by: Japanese Standards Association